By: Colleen Monroe
Transporting audiences back in time on screen is no small feat. Costumes, in particular, have a major role to play in creating characters that suspend disbelief and capture the nuances of an era, be that through the shape of a shoe, the angle of a hat, even down to the type of lace on an undergarment.  
Carole Griffin has a vast costume and fashion career that began in theater and editorial and today works as a costume supervisor. She took some time with us to shed light on the intricate organization of her specialty in period costuming for her latest project, Man in the High Castle.
She admits that supervising a period show is not for everyone, but for her, it was the right fit:
"We have 10 days to prep, but there is a lot that has to happen in that time frame. My last 5-6 projects before coming onto the High Castle were features so I was very much a feature person. That's why for me it was an easy transition because the volume felt manageable. I'm used to 3,000 background in a feature that you might have 3-4 months to prep for. In High Castle, we could  have up to 500 people in 2 weeks — no problem!"
So what are Carole's secrets to success? 
#1 Set up an organizational system that allows for collaboration
For Man in the High Castle, Carole used various digital tools to streamline processes for quickly changing information that her team and other departments could easily access. This freed up her time to focus on importing costumes from Thailand or setting up a satellite costume shop in San Francisco.
Mixing old and new, Carole has some favorite collaboration tools:
Breaking down the script in SyncOnSet quickly gave her the all the information she needed to sit down with Costume Designer, Cate Adair and decide what pieces needed to be custom-made, what could be rented, and what could be cut to save on budget. This information could then be easily referenced by assistant costume designers for researching and shoppers for sourcing.
In addition to using SyncOnSet, Carole also used Google Docs to track cast measurements and manage cast fitting schedules which change by the minute. This kept the shoppers and costumers in the loop so they knew what costumes were working first and if they needed to re-prioritize based on a schedule change. Character measurements were broken down by season and episode so costumers could easily access the information for pulling the correct wardrobe for fittings. Carole also linked in other departments who often needed measurements. For example, the Casting Department would request sizing of an actor to cast a double for a stunt, or the Art Department would request height and waist measurements to design a set or prop pieces like doorways and holsters.
Beyond digital tools, Carole also made a giant TO DO list every night of tasks for the following day. She kicked off a meeting each morning with the costume team to review goals and ensure that everyone was aligned with the tasks.
#2 – Design a swatch library
With the blend of time periods for the different worlds, stunts, and a massive number of background actors, Man in the High Castle costumes were highly custom and that meant sourcing bolts and bolts of fabric from around the globe.
Each new season also brought with it a specific color palette, so Carole sent her shoppers to source, swatch and buy fabric in Montreal, Toronto, New York, and LA.
To track it all, a fabric swatch library was created, a system Cate had used in the past which she thought would be ideal for Man in the High Castle. File folders of swatches were displayed on the costume office wall along with matching copies of the folders in their LA office at Western Costume, and with their many fabric vendors. When the time came to do a build, Costume Designer, Cate Adair, would refer to the swatch library to choose the fabric and then Carole/and or assistant costume designers would check on the fabric availability by noting the folder number and swatch code, and inquiring with the fabric supplier.
'If you see something while you're out, but you don't think it's right for this particular episode, buy it anyways! It might be perfect for the next episode or a new character.'
#3 – Understand the craft of custom-made and how to outsource manufacturing
For period shows, the in-house costume shop is an integral part, creating custom pieces for the leading cast or altering vintage and rental stock. Carole assembled a team that included the head cutter, who would oversee a team of 6-8 stitchers and two assistant cutters. Carole stopped by daily to ensure that deadlines were being met or gauge whether more hires were needed to complete a build.
Building costumes didn't always happen in the costume shop. Sometimes they had to be outsourced, especially if they were making hundreds of uniforms.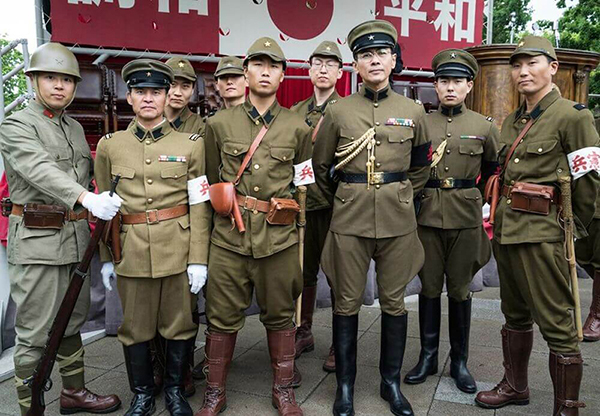 Carole worked closely with Siam Costumes in Thailand to build these uniforms. It was a multiple step process:
First, Carole sent a highly detailed email listing out the costume build specifics.
Second, Carole had a prototype made by her own in-house costume shop which they would then send to Thailand with the patterns. This allowed for very clear instructions for Siam — from the buttons to the seam allowances to the style of a trim.
Third, Siam would send back a sample based on the prototype they received. Carole and her team would make notes for any adjustments. From there, they would send it back to Siam to begin the cut and sew process.
Carole explains, "We couldn't afford to have the manufacturing done in LA because the quantities were so massive. Even though we've used K&P and Mr. Nim — those are fine for cast and smaller quantities — but they could never produce 150 uniforms in the time frame that we needed."
BONUS! Carole's personal supervising secrets
With fabric, costumes, and other materials coming from all parts of the world, and filming in multiple locations — San Francisco, Los Angeles, Germany, and Vancouver — Carole's laser-focused organization and multi-tasking skills are what got the job done!
Here's some additional advice from Carole on how she personally keeps her people motivated and her projects moving forward:
Empower people
"Give people the confidence to make decisions on their own without coming to you and being micromanaged. I'm not a micromanager. I like to tell people what I expect from them and trust that they can do it because that's why I hired them. We always say to the shoppers, if you see something while you're out, but you don't think it's right for this particular episode, buy it anyways! It might be perfect for the next episode or a new character.  I like to empower people and give them the confidence to do what we do."
Always be looking ahead
"I'm always three steps ahead of everybody else. While they are working on this episode, I'm already working on the next episode or reading two episodes ahead so we have an idea of what's coming…because we may need another 50 uniforms that should get in the works now…we are going to need the insignia, the footwear…"
Let your mind rest to come up with creative solutions
"I sometimes will wake up in the middle of the night with some crazy idea. I'll get up and write it down or email it to myself. Whenever I have downtime, that's when I do my best creative thinking to come up with solutions. For instance, one morning I was trying to figure out how to maximize our space to do more fittings. I came up with the idea to install hospital curtains (inspired by looking at my own shower curtain) to create individual fitting rooms. That way, when we are not doing fittings, we can push the curtains against the wall and turn the space back into a prep room."
And that's a wrap!
Amazon has announced that Season 4 of
Man in the High Castle
would be the final season for the series, expected to debut in fall 2019. Watch the trailer
here.